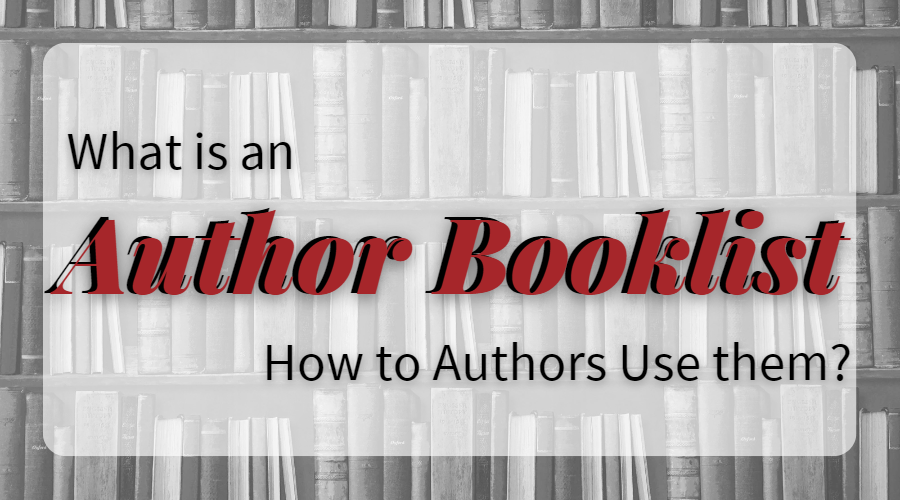 If you're a romance reader, you've probably seen an author booklist before. But what exactly is an author booklist, and how do authors use them?
In this blog post, we'll take a look at what an author booklist is and how they can be used to help authors sell more books.
What is an Author Booklist?
An author booklist is a list of all the books that they have written, either in chronological order or grouped by series. I like to find booklists listed with books in reading order, that way I know which book to read next.
Many authors include their booklists on their websites as a dedicated page where we can see all their books. Some even offer their booklists downloadable, which is awesome!
I've even seen some authors promote their booklists on their social media.
What I like to see on Author Booklists?
My favorite booklists have at least two elements listed. The first, of course, is the book titles listed within each book series. Having them in reading order is definitely needed. That way when I get done one book, I can find the next in the series!
The second is the names of the two main characters in each respective book. I like to connect the characters in each book with the other characters in the storyline – connecting them in such a way if they're siblings or best friends or brothers-in-arms.
These would be the basics that each booklist needs but I've seen other booklists with other info included. I've seen book covers, published dates, links to purchase, links to more info about each book.
No matter what's been included, to me, an author booklist is a vital and important piece of content I look for each time I find a new book. I've even created many of my own, to the point I have an entire binder full of my own versions!
An author booklist is a list of all the books an author has written, either in chronological order or grouped by series. Many authors include their booklists on their websites or on their social media pages, as a way of promoting their work. Some authors even offer free ebook versions of their booklists, which can be a great way to draw attention to your work.
How Authors Use their Booklists?
There are a few different ways authors use their booklists to sell more books online. One way is to offer discounts on their books if readers purchase them through that booklist. This can be a great way to encourage us readers to buy their books, especially if we're on the fence about whether or not we want to read them.
Another way they use it is to offer bonus content for readers who purchase their books. This can be anything from extra scenes to character interviews. Finding bonus content is always fun to get from an author BEFORE I read as it allows me to get a taste of their writing style to decide whether or not I'm going to read their books.
No matter what, booklists are a great tool for authors, whether they're promoting their work or offering bonus content to those who purchase their books.
Tell me what you think!
Do you like finding author booklists? Do they influence your TBR list?? Comment below.