Originally Published: 11-26-19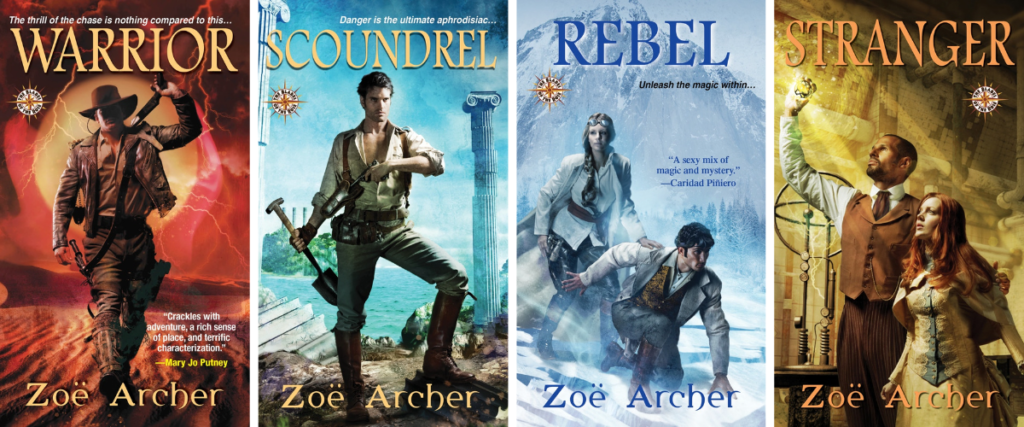 The Blades of the Rose Series by Zoe Archer is a listed as a paranormal romance book series. I found that it's more magical than paranormal.
You can certainly read this book series separately, but you will find that you will understand the background plot much more if you read the series in order and all together.
There's a background plot that spans the whole series, but there's also a plot that's within each book as well. Those are solved within each book, so each book can stand on its own and is not a cliffhanger.
This whole series was published in 2010, one right after the other!! So as readers, we got to enjoy the whole series.
This series is about two groups of people pitted against each other fighting against good and evil.
The Blades of the Rose are men and women that are determined to protect the magic of the world. So the magic is kept within their rightful owners and not used for nefarious purposes.
The Heirs of Albion are a large organization that want to expand England's power at the cost of everyone else. They want to use the power of each of the Sources to dominate the globe making England their empire.
The characters of each of these books are the ones that fight within this Blades of the Rose group. So while each of the characters are connected with this noble cause, each of their stories are theirs alone, hence the ability to read each book separately.
Each story's plot line is wrapped around saving a magical artifact from the Heirs while evading this nefarious group. These stories are based in the early 1800s. She does a marvelous job with her descriptions of the times and customs of the time periods and places that each story is placed.
These books are wonderfully written, with complex characters and intriguing plot lines.
Zoe Archer does get quite descriptive in her love scenes. They are a bit much for any who doesn't like to read details. The sensuality level is definitely high for the love scenes.
All four books keep you on the edge of your seats while you try to figure out what's going to happen. The background plotline for the book series does end with these four books.
In book 1, Warrior, Capt. Gabriel Huntley first encounters Thalia Burgess when he passes on a message.  What he doesn't know is what it was for.  But he's intrigued enough to follow her and find out what she's up to.  
As they race to find and protect the Source, they also fight the intense attraction they feel for each other. It's an entertaining and imaginative adventure that's enjoyable from beginning to end!
In book 2, Scoundrel, we meet Bennett Day and the lady that changes him from a ladies man to one lady's man!  Thru their adventure, we learn how love and acceptance can be the strongest antidote for deep loss and learning how to stand on your own after it.
Book 3, Rebel, takes us to the Canadian Rockies and two new characters.  Astrid Bramfield's been hiding in the Rockies since she lost her husband in a battle with the Heirs.  She lost the will to live until a chance encounter with an Earth Spirit, a handsome Native American who can change shape, heals her spirit and teaches her to love again.
Book 4, Stranger, is the final book in this series.  This one brings us Gemma Murphy and Catullus Graves' story as well as finishing off the series.
Gemma is a reporter. She follows Catullus, Nathan, and Astrid from the Rocky Mountains to England for a story that has captured her attention. But what she finds instead is a man who will accept her for who she is and what she is trying to do instead of the shape of her body! It's a story of learning to love and accept each other for who and what they are.
Follow the links to each of the book covers to see the #bookdetails for each of the books in this great series.
---
Check out the individual books in The Blades of the Rose Series
---
---
If you liked the Blades of the Rose Series, you might like: