Originally Published: 10-25-18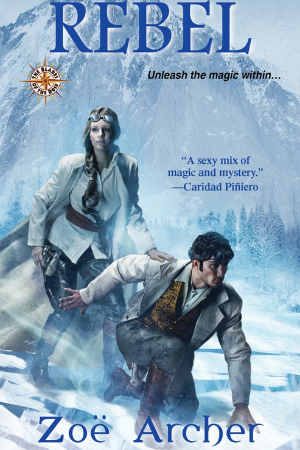 Rebel is the 3rd in the 4-book Blades of the Rose Series by Zoe Archer.
This book brings in two new characters to get to know.
Astrid Bramfield was a Blade, along with her husband Michael, until he was killed in battle.
Now, she's been hiding in the Canadian Rockies for several years as she has trouble actually living.
So this book starts out in Canada during the 1800s. We see how the customs and thoughts of the time and how there were prejudices that caused a lot of issues and problems.
Astrid first encounters Nathan Lesperance when he comes to the fort claiming some personal possessions of man that she had found. And there's an immediate connection between them.
But she doesn't see him again until he shows up near her small place, miles away, completely naked and dazed.
Then they embark on an adventure that neither of them were prepared for. You see, Nathan is an Earth Spirit. A Native American that can turn into a wolf at will. He'd been captured by some Englishmen and got free only to be found by Astrid.
Astrid, knowing and understanding something about magic, took him in and helped him. All the while knowing that her seclusion was about to end.
The Englishmen are Heirs that are hot on their trail. As they race to find answers about who and what he is, they embark on an adventure that not only challenges Nathan but also Astrid's thinking. They both have to accept and adapt to the changes that are happening.
And while they search for answers, Nathan and Astrid grow closer together and explore their newfound intense feelings for each other.
And what they find becomes an amazing and fantastic story that's filled with paranormal fun and entertainment!
They race across the frozen north looking for Sources that enable the Earth Spirits to be who they are. There are three Sources that they end up looking for and while they look for them, they learn about each other and come to rely upon each other.
And they have help too. Catullus Graves shows up with a friend wanting to convince Astrid that she needs to come back to England to help with the Primal Source.
Of course, they find the Sources and save the day, giving us an adventure and excitement that makes for an exciting story.
We get to know Astrid and Nathan and the bond they develop. We also get to know Catullus. He's the resident genius and inventor for the Blades and he's really good with Astrid. He wants her to be happy, and with Nathan she finds love again.
So you'll find a tender and sweet love story. But you'll also find thrills and chills that keep you glued to your page as you finish the story. There's so much that happens in this story, that reading it again and again is soooo worth it!
And then this story leads us directly into the next book.
At the trading post, Catullus meets an intriguing reporter that captures his attention.  Take a look at their story in the final book, Stranger!
---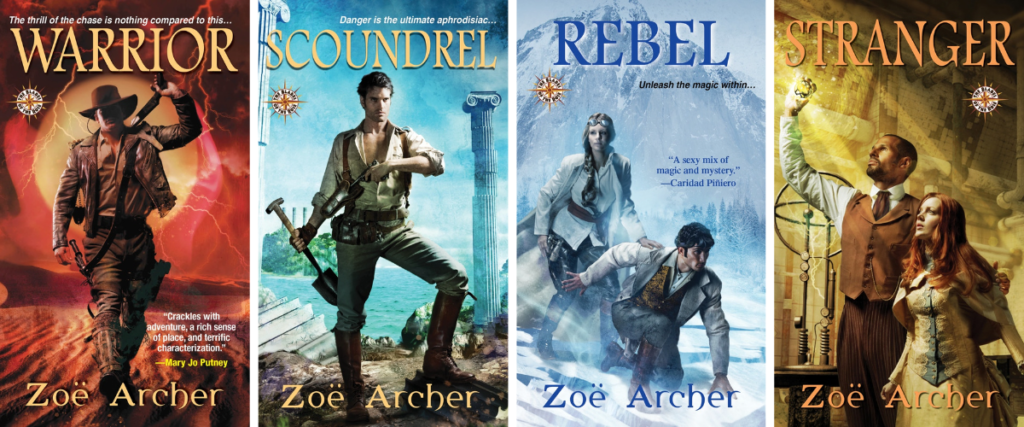 ---
---
If you liked Rebel, you might like: