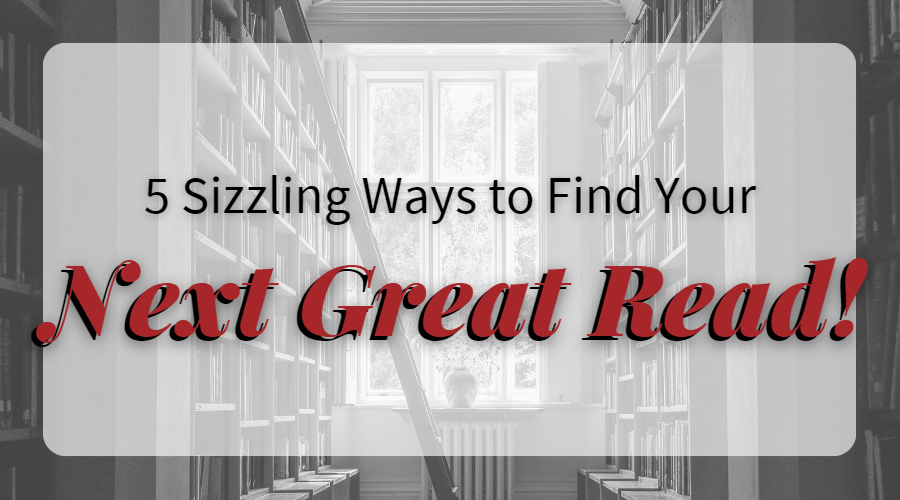 As a romance reader, there's nothing sweeter than finding a romance book that you absolutely love!!
When that happens, it's incredibly rewarding you just don't want to read one book, you want to read them ALL!!
Luckily, avid readers like me, we're always on the hunt for our next great read! Here're five sizzling ways you can look for more looks to add to your ever-growing TBR list!
Find Books in Libraries and Bookstores
While shopping online is definitely on the rise, there's still something special about spending hours wandering the aisles of my favorite library or bookstore, surrounded by shelves and shelves of books.
This is specially true when I'm looking for a new-to-me authors to discover. Seeing a book cover, reading the blurb, and even flipping through the first few pages can be incredibly powerful when it comes to making a decision to read or not to read!
Find Books at Trade Shows or Book Fairs
Trade shows, book fairs, or even conferences are often thought of as event just for publishers or authors, but they can be a great way for us readers to discover new books (or authors) as well.
It's a great opportunity to meet authors face-to-face and make connections.
It's also fun when authors offer additional merchandise, such as bookmarks, posters, calendars, journals, or other swag products for us to take home with us.
Find Books from the Movies You Watch
There's no denying that we all live in a visual age, and we all love to watch movies or binge watch tv! Thinking you'd rather read the book after you've watched the movie, it just might give you a deeper understanding of the story and characters.
Check out the list of romance books that've been adapted to movies.
Find Books from Recommendations
There's nothing like word-of-mouth recommendations! They're valuable because we trust our friends and family, we trust their opinions. So, next time you're looking for a new great read, ask a friend, family member, coworker, or even the online friends you've made in that Facebook group you joined awhile ago!
And don't forget to share your recommendations with your friends and family too! Be active on social media, get involved in online groups and forums and share your thoughts and opinions. Remember to use Goodreads too!
Find Books Online Yourself
Finally, there's no denying the power of online shopping when it comes to finding new books to read. You can browse not just one, but as many bookstores without leaving the comfort of your own home.
Websites like BookBub offer daily deals on ebooks, which can be a great way to find new books. I personally have amassed over 2500 books on my Kindle because of BookBub!!
Conclusion
Browsing the physical aisles of bookstores or scrolling endlessly online, us readers are always on the hunt for our next great read! Finding authors who fit that "next great read" are the lucky ones to be found!